Culture media or stubborn limescale can be easily removed.
Autoclave Detergent
LISTER™
Standard amount of use:
One cap of detergent in 2 L of water (about 20 ml, 1%)
※Remove materials to be sterilized before using the detergent.
---
 ■ Features and Functions
---
Powerful cleaning capacity
Dirt such as limescale and culture media adhering to the inside of the autoclave chamber can be easily floated and removed with the powerful cleaning capacity.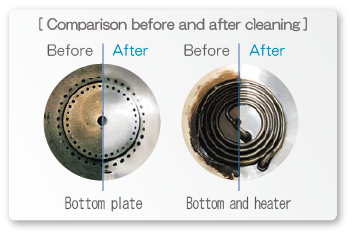 How to use
①Supply the specified amount of water into the chamber and pour the amount of LISTER™ equivalent to 1% of the supplied water.
※When cleaning the bottom plate at the same time, pour water until the water level is above the bottom plate.

②Program settings
Sterilization temperature: Set to the lowest possible value.
Sterilization time: 5 to 20 minutes
(set according to the dirt situation.)

③Run a cycle according to the operation manual.

④After operation, drain the water and wash the inside of the chamber sufficiently with water.
※Wipe off stuck-on dirt with a soft cloth.
LISTER™ cannot be used for the following series of products due to the product structure.
HLM series, HGD series, HGS series
HF series, HRG series

Product information
Autoclave detergent: LISTER™
Component: Phosophoric acid
Liquid acidity or alkalinity: Acidity