High Altitude Model, Available
A simple operation bench-top autoclave
HRM

series
Temperature and time can be set with easy operation.
Selectable drying time
Memory function
Optimal drying is always possible.
---
 ■ Features & Functions
---
One-touch door interlock mechanism
The sliding door latch system offers convenient, one-touch door opening and secure closing. For safety, the door cannot be opened while the chamber is pressurized.
Automatic one-touch program selection
Depending on the load to be sterilized, you can access from three preset programs at the touch of the MODE button:
1) Sterilization-Exhaust-Drying
2) Sterilization-Rapid exhaust (solids)
3) Sterilization-Exhaust (liquid)
After selecting the desired program, merely pressing the START key will automatically initiate and complete the program from sterilization through drying (if selected). The default parameters in each program can be changed quickly from the keypad. Once changed, the new values are retained in memory until reprogrammed. Thus, the same cycle can be repeated merely by pressing the START key.
Automatic steam exhaust system
In the liquid cycle, the automatic exhaust system is activated after completion of sterilization, providing controlled, unattended rapid cooling down, but without the risk of boiling over. In the solid goods cycles, steam is exhaust more rapidly after sterilizati-on.
Full sterilization with efficient drying
The microprocessor executes the sterilization cycle with accurate and precise temperature control. An internal drying heater is used to dry the load more efficiently than an external heater.
Fully automatic drying system (option)
Unlike other bench-top sterilizers, the HRM-242II is truly automatic from start of sterilization to completion of drying. You do not have to be present to open the chamber door slightly before initiating the drying cycle because a air pump is used to push hot moist air out of the chamber. The internal heater and pump make drying in the HRM-242II rapidly and efficiently. Note: The air pump is an option which can be installed in the field.
Required utilities   
---
・Power supply:Refer to the specifications.
※Ask us for details.


Compact design plus easy maintenance
The unit requires only 505W x 535D mm of bench top space. A see-through tubing indicates the water level in the water reservoir so that it is easy to know when more water is needed in the reservoir. Draining and cleaning of the reservoir in routine maintenance is easy: just lower the water level tubing to a horizontal position and collect the outflow in a container.
Safety features
The array of safety features include a pressure relief valve, over-pressure power cutoff, low-water power cutoff, and circuit breaker. In addition, warning lamps and audible alarms alerts you to any abnormal condition or malfunctional components. An on-board self-diagnostic system for troubleshooting rapidly pinpoints malfunctioning components, thereby minimizing downtime and service costs.
 ■ Operation cycle
Sterilization - Drying
Heating
Sterilization
Exhaust, Drainage
Drying
●Main applications: Sterilization of gauzes, fabrics ( Material which requires drying after sterilization), Additional drying of gauzes , fabrics

Sterilization
Heating
Sterilization
Exhaust
(Rapid)
●Main applications: Solids
Sterilization
Heating
Sterilization
Exhaust, Drainage
●Main applications: Liquid
 ■ Option
            
Round dressing drum
stainless steel
            
Rectangular sterilization container
stainless steel
          
  
φ170 x H120 mm
  
W310 x D130 x H80 mm
          
Tray and Tray rack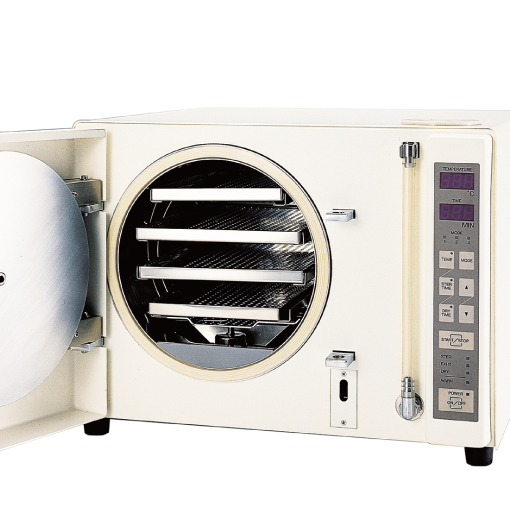 ■ Specifications
Product name
HRM series Bench-top Autoclaves
Model

HRM-242Ⅱ

Effective capacity
16 L
Chamber size (φ x H mm)
240 x 360
Operation mode
Sterilization - drying, Sterilization (For Solids / For Liquid )
Sterilization temperature setting range
105℃ - 134℃ (in 1℃ increments)
Time setting
range
Sterilization
1 min - 60 min, variable
Drying
1 min - 90 min, variable
Drying method
Internal drying heatetr
(optional) Air pump for fully automatic drying system
Water supply / drainage method
Water tank (circualtion type)
Safety devices
Over-pressure relief valve, Over-pressure power cutoff with alarm, Low water power cut off with alarm,
Microprocessor malfunction detection device with alarm, Circuit breaker
Outside dimensions (W x D x H mm)
505 x 535 x 380
Net weight (Approximately)
39 kg
Pressure vessel category
Simple pressure vessel
Power supply
AC120V / 220V / 240V, 50Hz / 60Hz Single-phase
Required power supply facility
1.2kW
Power connection

Ring terminal
Supplied accessories
Bottom plate, Drainage filter, Fuse